Maharashtra Maha Bharti 2021 – Mega Bharti Online Form Update
Maharashtra Mega Bharti 2021 – 70000 Posts Megabharti
Mega Bharti 2021 Online Application Starting Date
Mega Bharti 2021 (महाराष्ट्र मेगा भरती 2021) is announced by the Government of Maharashtra. This Maharashtra Mega Bharti 2021 will be going to recruit almost 70,000 posts in different government departments. In the recent cabinet meeting, the government announced about fulfilling 70000 posts of Maha Bharti in 2020. Previously Maharashtra Government planned to take this Mega Bharti in 2 stages i.e in the first stage 36000 posts and remaining in the next process. But now as per the latest news, the Government will recruit all vacancies in this Mega Bharti. Mega Bharti 2021 will start in all the departments of the Maha Government and below you will get all the details regarding Maha Bharti.
Mega Bharti 2021 – Latest Update (19 जानेवारी 2021)
Arogya Vibhag Bharti 2021 is starting today as confirmation is given by Maharashtra Health Minister Mr. Rajesh Tope. There will be 8500 posts in the first phase of Health Department Bharti.
आरोग्य विभागामध्ये 8500 पदांसाठी भरती होणार आहे व त्यासंबंधी जाहिरात प्रकाशित झालेली आहे.
जाहिरात डाउनलोड करण्यासाठी व या भरतीविषयी अधिक माहितीसाठी समोरील लिंकवर क्लिक करा – येथे अधिक माहिती वाचा
Maha Mega Bharti 2021 – लेटेस्ट अपडेट (02 December 2020)
आता लवकरच मेगा भरती पुन्हा सुरु होणार असून एसईबीसी प्रवर्ग वगळून खुल्या प्रवर्गासह अन्य संवर्गातून पदांची भरती करण्यात येणार आहे. एसईबीसी प्रवर्गातील विद्यार्थी खुल्या प्रवर्गातून परीक्षा देतील असे कळाले आहे. अत्यावश्यक असलेल्या तीन विभागाची भरती सुरुवातीला होईल व एकूण रिक्त पदांपैकी 50 टक्के पदे भरण्यात येईल. येणाऱ्या 15 दिवसांत हि भरती प्रक्रिया राबविण्यात येईल अशी माहिती देखील प्राप्त झाली आहे.
This Maharashtra Mega Bharti will be one of the biggest recruitment ever and it will cover all the departments which came under government authority. In this Mega Bharti following departments recruitment will declare under ZP Bharti 2020 – Gram Vikas Vibhag, Arogya Vibhag, Gruh Vibhag, Krushi Vibhag, Pashusanvardhan Vibhag, Sarvajanik Bandhkam Vibhag (PWD Department), Jalsampada Vibhag, Jalsandharan Vibhag, Matsya Vyavsay Vikas Vibhag, Van Vibhag (Forest Department) and Nagar Vikas Vibhag.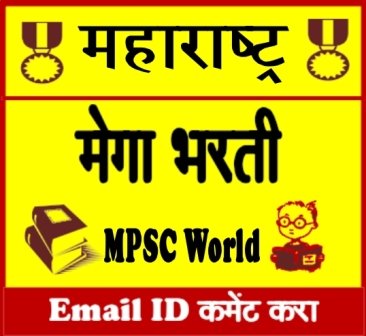 Mega Bharti Latest Update – 30 January 2020
Maha Vikas Aghadi Government announced to recruit 70,000 vacancies in all the departments of Maharashtra government. In the minister's meeting, vacancies available in all the government sector issues discussed and then they decided to start Mega Bharti again to fulfill those vacancies.
महाविकास आघाडीच्या मंत्रिमंडळ बैठकीत, विविध सरकारी विभागांतील 70,000 रिक्त पदे भरण्याचा निर्णय घेतला आहे. हि नवीन मेगा भरती महापोर्टल द्वारे न घेता, नवीन सुधारित तंत्रज्ञानाचा वापर करून पारदर्शक पद्धतीने घेण्याचा निर्णय घेण्यात आला. कोणत्या विभागांमध्ये किती जागा रिक्त आहेत याचा तपशील खालील तक्त्यामध्ये.
| | |
| --- | --- |
| विभागाचे नाव | रिक्त जागा |
| ग्रामविकास विभाग | 11,000 जागा |
| गृह विभाग | 7111 जागा |
| कृषी विभाग | 2500 जागा |
| पदुम विभाग | 1047 जागा |
| सार्वजनिक बांधकाम विभाग | 8330 जागा |
| जलसंपदा विभाग | 8220 जागा |
| जलसंधारण विभाग | 2433 जागा |
| नगरविकास विभाग | 1500 जागा |
| आरोग्य विभाग | 10,560 जागा |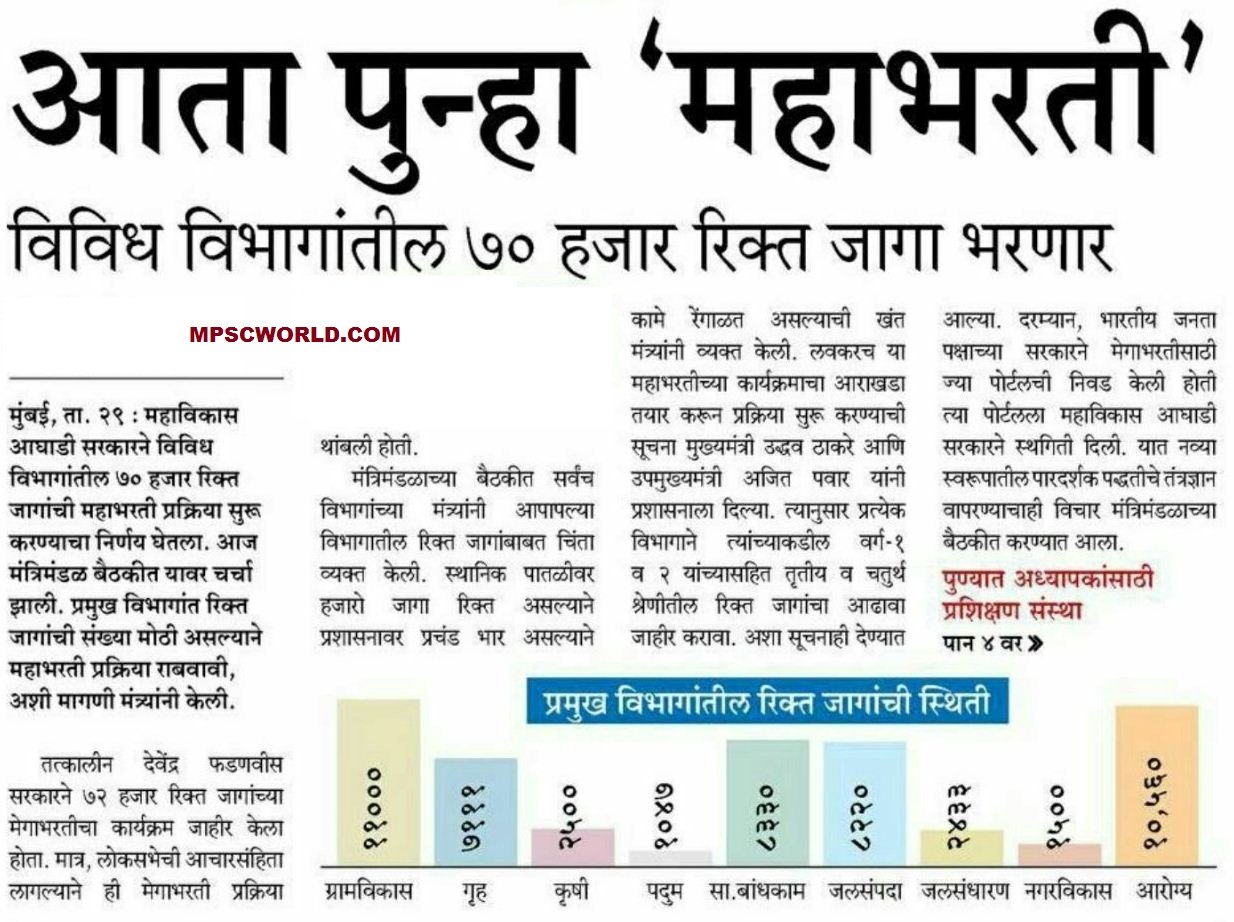 ---
Mega Bharti Latest Update – 22 May 2019
As per today's news, Maharashtra Mega Bharti will again start to fulfilling the remaining 32 thousand posts. Probably, Mega Bharti will resume from the first week of June 2019. Please read the news to get more information.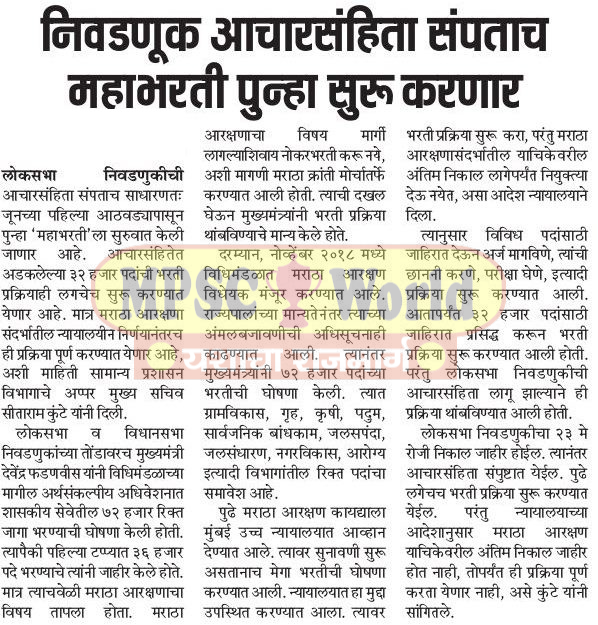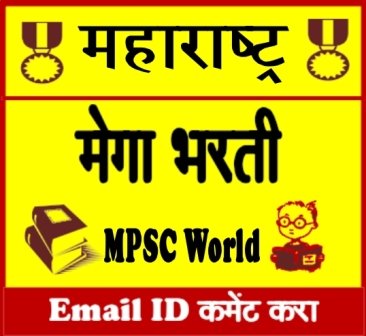 Maharashtra Mega Bharti Update – 20 February 2019
Collection and grouping of all the vacancies in all departments of Maharashtra have been completed now. So, Maybe in the coming 3-4 days, Mega Bharti Advertise will publically available.
Mega Bharti Update – 23 January 2019
Bombay High Court keeps stay continue over Mega Bharti till 6 February 2019. As of 6th February, the hearing has been placed regarding the issue of Maratha Reservation.
Mega Bharti Update – 27 December 2018
In a program organized at Dhule, Chief Minister Devendra Fadnavis said that soon the Mega Bharti will be issued as there is no barrier to starting mega recruitment soon.
Mega Bharti Update – 19 December 2018
The state government has given a guarantee that the recruitment of Maratha will not be recruited till 23 January during the hearing of the petition filed in the Bombay High Court. The state government has been challenged in the Bombay High Court for granting 16 percent reservations to government jobs and educational institutions in the Maratha community.
Under the Maratha Reservation Act, all the institutions of the state government can start the recruitment process in the Maharashtra Mega Bharti process, but the government in the High Court guarantees that successful candidates will not be given the nomination till January 23.

Maharashtra Mega Bharti Update – 15 December 2018
As per the latest information, the Mega Bharti advertisement will be published anytime between 17 to 19 December 2018. The government was trying to publish the advertisement on 15th December but vacancy data submission of some districts is still pending so the date is postponed to the next 2-3 days.
Mega Bharti Update – 10 December 2018
As per the latest news, In the first stage Total, 34000 posts will recruit in Mega Bharti.
302 posts will be recruit through MPSC from 12 different cadres.
Mega Bharti Update – 4 December 2018
Mega Bharti 2019 is going to start in the first week of February 2019.
In the next week, the official advertisement will be published.
Mega Bharti Update – 1 December 2018
Maharashtra Megabharti New Update Published on 1 December 2018. Actually, in July 2018, an official confirmation regarding Maharashtra Mega Bharti is announced. But due to the ongoing issue regarding Maratha Reservation, That time the government holds this mega recruitment till the announcement of Maratha Reservation. So, now Maratha Reservation is declared and the procedure regarding Maharashtra Mega Bharti 2018 – 2019 is started. Recruitment news will out very soon.
Qualification Requirement For Mega Bharti 2020
What is the educational qualification required for Maharashtra Mega Bharti 2019? We know this question is currently coming into your mind as there is no clear explanation published by the government. We want to clear you one thing that, this Mega Bharti is announced for all the major government departments and separate department wise notification will publish. There are also chances of district wise notification for each department will announce because all type of vacancies is going to recruit in this Mega Bharti i.e Grade A, B, C & D.
So, Don't worry, All the job requirements from 12th to Post Graduation will fulfill in this Mega Bharti. Final qualification details will be published on this page once official notification will release. Educational Qualification and Eligibility Criteria for Mega Bharti 2019 depend upon for which post you are applying. So, We will get all the information once the official advertisement will publicly available. Keep visiting this page as we are regularly updating information regarding Mega Bharti 2019.
Department wise Total Posts in Maharashtra Mega Recruitment 2020
Now we will see detailed information about department wise posts in the Mega Bharti. Official posts data will publish in December 2019, so this data is tentative but almost accurate.
| | |
| --- | --- |
| Name of Departments | Total Posts |
| | 10568 Posts |
| | 11000 Posts |
| | 7111 Posts |
| | 2500 Posts |
| | 1047 Posts |
| |  8337 Posts |
| | 8227 Posts |
| | 2423 Posts |
| | 90 Posts |
| | 1500 Posts |
| | – |
Syllabus & Exam Pattern For Maha Mega Bharti 2020
This Bharti is for the Group "C" and Group "B" level government vacant posts and all exams of various departments will be taken on the same day.
In these exams, 25% of the syllabus will be on the History and Geography of their respective districts. So, you need to study carefully by following the actual syllabus to save your time. We provided the complete syllabus with notes in the below link, you just need to click on it.
Age Limit for Mega Bharti 2020
Age Limit for Mega Bharti is the common question generally asked by students, so here we will provide you age limit details. Age Limit is varied with the category you belong i.e There are different age limitations by categories. We provided age limit information in the below table.
Age Limit For Mega Bharti 2020
Open Category
18 to 38 Years
Reserved Category
18 to 43 Years
Department Wise Posts List for Mega Bharti
Department wise posts list is given in the below Table. Please Note – खालील पदे हे मराठीतील आहे पण इंग्लिश मध्ये लिहिलेले आहे.
Name of Department
Name of Posts
Krushi Vibhag
Krushi Seva Varg 1,2, Krushi Sahayak, Krushi Paryavekshak
PashuSanvardhan Vibhag
Sahayak Ayukt, Pashusanvardhan, Pashudhan Paryavekshak, Parichar
Sarvajanik Arogya Vibhag
Vaidyakiy Adhikari Group-A, Group-B (All Posts directly related to medical services), Group-C (All Posts directly related to medical services), Group-D (All Posts directly related to medical services)
Gruh Vibhag
Deputy superintendent of police, Police Sub-inspector, Senior Gupt Varta Adhikari, Sahayak Gupt Varta Adhikari, Police Shipai
Sarvajanik Bandhakam Vibhag
Sahayak Abhiyanta Class-2 (Sthapatya), Kanishth Abhiyanta (Sthapatya)
Vitt Vibhag
Sahayak Sanchalak, Kanishth Lekhapaal
Mrud v Jalsandharan Vibhag
Sahayak Abhiyanta Class-2 (Sthapatya), Kanishth Abhiyanta (Sthapatya)
Dugdhvikas Vibhag
Abhiyantriki Group (Kanisht)
Dugdhvikas-Abhiyantriki Group, Dugdhsanvardh, Praran, Dugdhshala aani krushi paryavekshak, Dugdhsankalan Vikas Adhikari aani tantradnya
Matsyavyavsay Vibhag
Sahayak Ayukt, Matsyavyavsay Vikas Adhikari, Sahayak Matsyavyavsay Vikas Adhikari
Gram Vikas Vibhag
Ayurvedic Vaidya, Vaidyakiy Adhikari Class-3, Avaidyakiy Paryavekshak, Unani Hakim, Krushi Adhikari, Kanishth Abhiyanta, Vistar Adhikari Class-2, Vistar Adhikari Class-3, Sathrog Vaidyakiy Adhikari, Sarv. Arogya Parichar, Vistar Adhikari, Gram Vikas Adhikari, Arogya Paryavekshak, Aushadh Nirmata, Prayogshala Tantradnya, Kushthrog Tantradnya, Arogya Sahayyak, Arogya Sevak, Arogya Sevika, Arogya Sahayyak (Female), Vistar Adhikari (krushi), Sthapatya Abhiyantriki Sahayak, Sahayak Pashudhan Vibhag Adhikari, Pashudhan Paryavekshak, Prayogshala Sahayak, Paryavekshika, Kanishth Abhiyanta, Jilha Sarv. paricharika, Vistar Adhikari (Aayu), Prashikshit Dae, Vikas Seva Group-C, Group-D, Gram Sevak
So friends, Now increase the speed of your study as this Mega Bharti is going to start very soon. Do preparation well and be confident, success will be at your feet. Keep Visiting MPSC World to get the latest updates about Mega Bharti 2020.
Best Luck…!