Arogya Vibhag Recruitment 2023 – महाराष्ट्र आरोग्य विभाग भरती 2023
10949 Jobs found
Arogya Vibhag Bharti 2023 – Complete Online Details
Maha Arogya Vibhag Recruitment 2023 – Application Details

Department of Maharashtra State Public Health Department has announced notification for the Arogya Vibhag Bharti 20231. The name of the post is Group C and Group D. There is a total of 10949 vacancies available for this post. All eligible and interested candidates can apply online for this post. The last date to apply online is 22 September 2023. Below in this post, you will get the complete details such as its eligibility criteria, educational qualification, vacancy details, etc. regarding Arogya Vibhag Recruitment. So, please read the below details carefully before applying for these posts.
महाराष्ट्र शासन सार्वजनिक आरोग्य विभाग भरती 2023

पदाचे नाव
 ग्रुप क आणि ग्रुप ड
पद संख्या 
10949
अर्ज पद्धती
ऑनलाइन
अर्ज करण्याची शेवटची तारीख
22-09-2023
सविस्तर माहिती खाली वाचा
➡ आरोग्य विभाग ग्रुप सी व ग्रुप डी लेखी परीक्षेचे प्रवेशपत्र डाउनलोड करा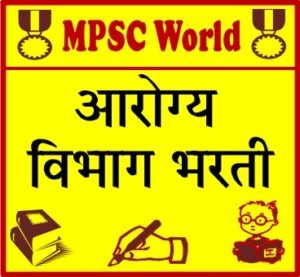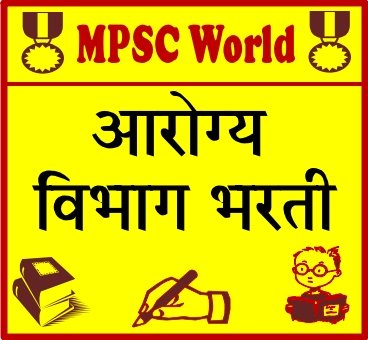 Arogya Vibhag Bharti 2023 Details

Department Name

Maharashtra State Public Health Department
Recruitment Name

Arogya Vibhag Recruitment
Name of Posts
Group C and Group D
Total Posts
10949
Application Mode
Online
Official Website
arogya.maharashtra.gov.in

Age Limit For Arogya Vibhag Recruitment 2023


Open Category
18 to 40 years
Reserve Category
18 to 45 years

Vacancy Details For Medical Officer under Group A

Group C
6939
Group D

4010

Application Fees

Open category
Rs. 1,000/-
Reserved category
Rs. 900/-

All Important Dates




Last Date For Online Application

22-09-2021
How to Apply For Arogya Vibhag Bharti 2023
All candidates should visit www.maha-arogya.in to fill out an online application form for Arogya Vibhag Recruitment 2023.
Candidates must have a soft copy of their passport-size photo and signature before applying for any post. This will ask you to upload while filling out the application form.
Don't forget to take the print of the application form after submitting the online form.
---
Arogya Vibhag Bharti 2021 – 8500 पदांची मेगाभरती
Maha Arogya Vibhag Recruitment 2021 – www.arogya.maharashtra.gov.in
Arogya Vibhag Bharti 2021 is finally started as it was postponed due to the covid-19 situation. In the first phase, 8500 posts will be available to recruit in Arogya Vibhag. In this Health Department Recruitment, 50% of vacancies will be fulfilled and Group "C" level posts are included in this Mega Bharti. All the latest updates regarding Arogya Vibhag Recruitment will be published here on MPSC World. All the information is given below, read below till the end.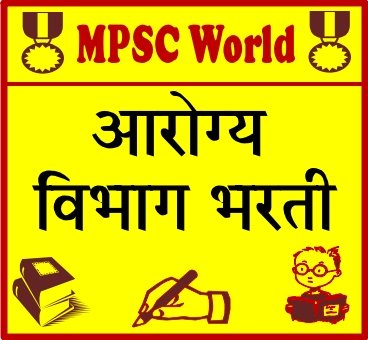 Arogya Vibhag Exam Login ID – लॉगीन ID उपलब्ध
Arogya Vibhag Exam is scheduled for 28 February 2021, so to download the hall ticket and other details Maha Arogya is published the website link where you can log in with the Mahapariksha details.
लवकरच होणाऱ्या आरोग्य विभाग गट क परीक्षेसाठी उमेदवारांना प्रवेशपत्र तसेच SEBC कॅटेगरी बदलासाठी आरोग्य विभागामार्फत नवीन वेबसाईट प्रकाशित करण्यात आली आहे. या वेबसाईटमध्ये उमेदवार महापरीक्षा पोर्टलचे लॉगीन डिटेल्स वापरून लॉगीन करू शकता व तसेच नवीन पासवर्ड तयार करू शकता. या वेबसाईटची लिंक खाली दिलेली आहे.
Arogya Vibhag Bharti Exam Date – परीक्षा जाहीर
Arogya Vibhag Bharti 2021 exam date is published in today's newspaper. The exam is organized all over Maharashtra on the same date i.e 28 February 2021. Arogya Vibhag Exam Hall Ticket / Admit Card will be published here once it will be released by officials.
आरोग्य विभाग भरती परीक्षेची तारीख जाहीर करण्यात आली असून, 28 फेब्रुवारी 2021 ला संपूर्ण महाराष्ट्रात एकाच दिवशी परीक्षा घेण्यात येईल. परीक्षेसंबंधी माहिती अपडेट्स या ठिकाणी प्रकाशित करण्यात येईल तरी पुन्हा भेट देत राहा.
Arogya Vibhag Bharti 2021 – जाहिरात प्रकाशित
बहुप्रतीक्षित आरोग्य विभाग मेगा भरती शेवटी जाहीर झाली असून रिक्त पदांची तपशीलवार जाहिरात देखील प्रकाशित झाली आहे. एकूण रिक्त पदांपैकी 50% पदे या भरतीद्वारे भरण्यात येणार आहेत. 2019 मध्ये ज्या उमेदवारांनी फॉर्म भरला होता ते उमेदवार देखील परीक्षा देऊ शकता. गट-क श्रेणीतील पदे या भरतीद्वारे भरण्यात येणार आहेत. 4 PDF मध्ये जाहिरात प्रकाशित झाली असून, जाहिरात डाउनलोड करण्यासाठी डाउनलोड लिंक खाली दिलेल्या आहेत.
सध्या प्रकाशित झालेली जाहिरात हि रिक्त पदांचा तपशील देणारी आहे, मुख्य जाहिरात प्रकाशित झाल्यावर अपडेट देण्यात येईल.
या भरतीसंबंधी अधिक माहिती थोड्या वेळात प्रकाशित होईल, तरी या पेजला पुन्हा भेट द्या. धन्यवाद.
Advertise regarding Maharashtra Health Department Recruitment will publish for Jalna, Thane, Pune, Solapur, Nagpur, Nashik, Latur, Akola, Chandrapur, Satara, Sangli, Nanded, Gadchiroli, Gondia, Wardha, Latur, Kolhapur, Bhandara, Parbhani, Mumbai, Ahmednagar, Buldhana, Amravati, Yavatmal, Washim, Beed, Osmanabad, Raigad, Ratnagiri, Sindhudurg, Dhule, Jalgaon, Nandurbar, and Aurangabad District.
You can check the below post for more information about DHS Recruitment.
महाराष्ट्र आरोग्य विभाग भरती 2021
महाराष्ट्र आरोग्य विभागात मेगा भरती अंतर्गत भरती होत आहे. भरतीविषयी संपूर्ण माहिती याठिकाणी प्रकाशित करण्यात आली आहे. कृपया "MPSC World" ला पुन्हा भेट द्या.
Arogya Vibhag Bharti 2021
District Wise
Details
Arogya Vibhag Recruitment 2021 is going to conduct in all districts of Maharashtra. Here we are providing all the details regarding Arogya Vibhag Bharti of all districts. Bharti process is started in all districts, so here we posted details of all districts.
We have updated here about all other districts where notification regarding Arogya Vibhag Bharti 2021 is published. Please check the below links of your respective district.
अधिक माहितीसाठी तुमच्या जिल्ह्यासमोरील लिंकवर क्लिक करा. सर्व जिल्हे अपडेट झाले आहेत.
You can apply for Arogya Vibhag Recruitment by clicking on the below link.
Application Fees For Arogya Vibhag Exam 2021
Maharashtra Arogya Vibhag Bharti is started and in this section, we are going to describe the Application Fees structure for Health Department Recruitment.
Application Fees Maha Arogya Bharti
General Category
Rs. 500
Reserved Category
Rs. 300
Postwise Educational Qualification requirement for Arogya Vibhag Exam
Many candidates have confusion regarding the requirement of Educational Qualification, So in the below table, we have given the educational qualification for all the posts which are published by the Health Department of Maharashtra. So, read the below table carefully to know the educational qualification of all the posts.
Postwise Educational Qualification Information
No.
Name of Posts
Educational Qualification
1
House and Linen Keeper
10th Pass
2
Store cum Linen Keeper/ Linen Keeper (Bhandarpal or Wastrapal)
10th Pass
3
Laboratory Scientific officer
Science Graduate
4
Lab Assistant
HSC with certificate
5
X-Ray Scientific Officer
Degree
6
Blood Bank Scientific Officer
Science Graduate
7
Medicine Origin Officer
D.Pharm
8
Health Technician
B.Sc. Pass
9
E.C.G. Technician
Degree
10
Dental Mechanic
10th + Dental Mechanic Course
11
Dialysis Technician
Graduate + DMLT
12
Nurse
B.Sc. (Nursing)
13
Telephone Operator
SSC Pass
14
Driver (Motor Vehicle)
SSC Pass with Driving License
15
Tailor (Shimpi)
SSC Pass
16
Plumber
SSC Pass
17
Carpenter
ITI
18
Pathya Nirdeshak
BSC Degree in Nursing
19
Social Health Midwife
BSC Degree in Nursing
20
Pediatric Midwife
BSC Degree in Nursing
21
Psychiatric Nurse
BSC Degree in Nursing
22
Eye Specialist
Optometric Degree
23
Multipurpose Health Worker
10th Pass
24
Social Superintendent
Degree & Diploma for Statutory University
25
Physiotherapist
Graduate in science & pass diploma in Physiotherapist
26
Occupational Therapist
Degree In Science (Occupational Therapist)
27
Counselor
PG in Psychosis
28
Chemical Technician
Graduate in chemistry
29
Bacteriological Assistant / Lab Technician
Graduate (Microbiology)
30
Junior Engineer (State Health Laboratory)
Diploma
31
Media Maker (Pushkar)
MSC Microbiology / chemistry
32
Non-Medical Assistant
10+ Course in Leprosy
33
Warden
Degree
34
Record Keeper (Abhilekhapal)
35
Jr Clerk
Degree + typing Knowledge
36
Electrician
10 + ITI
37
Skilled Artizen (Kushal Katagiri)
10th
38
Sr. Technical Assistant
39
Jr. Technical Assistant
40
Technician (H.E.M.R)
41
Jr. Technical Assistant (H.E.M.R)
42
Dental Hygienist
10th + pass Dental Hygienist examination
43
Electrician
10th + ITI
44
Auxiliary Nurse Midwife (ANM)
45
Statistical Investigator
Graduate Math Science or BCom with Statistic
46
Senior Clerk
Degree + Typing Knowledge
47
Foreman
48
Work Engineer
49
Sr Security Assistant
50
Social Superintendent (Medical)
Degree + Master Degree in Science
Information About Arogya Vibhag Recruitment 2021
As we already posted about total vacancies in Arogya Vibhag Recruitment i.e. 10568 Posts are going to recruit in this Mega Bharti. Below are some highlights of this recruitment.
Arogya Vibhag Bharti 2021 Detail
Arogya Vibhag (आरोग्य विभाग)
5776 Posts
Online Application Start Date
26 February 2019
Online Application Last Date
18 March 2019
Exam Date
28 February 2021
Syllabus & Exam Pattern For Arogya Vibhag Exam
In the Arogya Vibhag exam, Overall 25% of the syllabus is on the History And Geography of applicants district. So you have to study well about the history and geography of your own district. Also, the Arogya Vibhag exam will be conducted on the same day in the whole of Maharashtra. Keep visiting this page to get the latest update regarding Arogya Vibhag Hall Ticket 2021.
Arogya Vibhag Recruitment 2021 – FAQ
Q1. आरोग्य विभाग भरती परीक्षा केव्हा आहे?
आरोग्य विभागाची परीक्षा 28 फेब्रुवारी 2021 रोजी संपूर्ण महाराष्ट्रात एकाच वेळी घेण्यात येणार आहे.
Q2. आरोग्य विभाग भरती किती जागांसाठी होत आहे?
आरोग्य विभाग भरती एकूण अंदाजे 8500 जागांसाठी होत आहे.
Q3. आरोग्य विभागाची अधिकृत वेबसाईट कोणती?
आरोग्य विभागाची अधिकृत वेबसाईट हि www.arogya.maharashtra.gov.in आहे.