Latur Arogya Vibhag Recruitment – Latur Arogya Vibhag Bharti 2021
Latur Arogya Vibhag Bharti 2021 – Latur Arogya Vibhag Recruitment
Latur Arogya Sevak Bharti 2021 Complete Details
Latur Arogya Vibhag Bharti 2021 is declared by Maharashtra Health Department. This Arogya Vibhag Bharti is published under Mega Bharti 2021. Latur Arogya Vibhag Recruitment notification is published by Arogya Vibhag for various Group C posts. Please read below to get complete information and advertisement download link of this Latur P.H.D Recruitment.
In this article, you will get all the required information regarding Application Form Date, Eligibility Criteria, Selection Process, Educational Qualification, Age Limit, etc. for Latur Arogya Vibhag Bharti. So, please read the below post carefully before applying for these vacancies to avoid mistakes in filling an application form. We will update here regarding Arogya Vibhag Hall Ticket 2021 and Arogya Vibhag Answer Key once it is published by officials.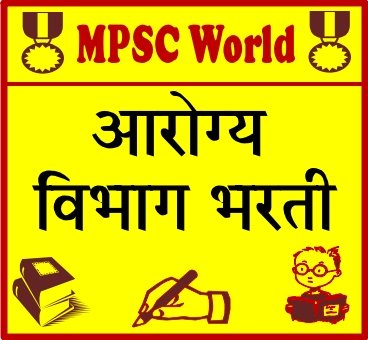 बहुप्रतीक्षित आरोग्य विभाग मेगा भरती शेवटी जाहीर झाली असून रिक्त पदांची तपशीलवार जाहिरात देखील प्रकाशित झाली आहे. एकूण रिक्त पदांपैकी 50% पदे या भरतीद्वारे भरण्यात येणार आहेत. 2019 मध्ये ज्या उमेदवारांनी फॉर्म भरला होता ते उमेदवार देखील परीक्षा देऊ शकता. गट-क श्रेणीतील पदे या भरतीद्वारे भरण्यात येणार आहेत. 4 PDF मध्ये जाहिरात प्रकाशित झाली असून, जाहिरात डाउनलोड करण्यासाठी डाउनलोड लिंक खाली दिलेल्या आहेत.
या भरतीसंबंधी अधिक माहिती थोड्या वेळात प्रकाशित होईल, तरी या पेजला पुन्हा भेट द्या. धन्यवाद.
---
खालील जाहिरात जुन्या भरतीविषयी आहे, नोंद घ्यावी.
लातूर आरोग्य विभाग भरती 2021

पदाचे नाव 
बाल रोग विशेषज्ञ, सर्जन, फिजिशियन, रेडियोलॉजिस्ट, एनेस्थेटिस्ट, गायनेकोलॉजिस्ट, माइक्रोबायोलॉजिस्ट, मेडिकल ऑफिसर, एमओ आरबीएसके, एमओ एमबीबीएस, सुपरवाइजर, स्टाफ नर्स, फार्मासिस्ट, काउंसलर, फिजियोथेरेपिस्ट, एससीडी कोऑर्डिनेटर, फैसिलिटी मैनेजर, डेंटल हाइजीनिस्ट, डेंटल हाइजीनिस्ट कार्डियोलॉजिस्ट, Yogo चिकित्सक, सामाजिक कार्यकर्ता, कार्यक्रम समन्वयक, मनोचिकित्सक
एकूण रिक्त जागा

114
अर्ज पद्धती
ऑनलाइन
अर्ज करण्याची अंतिम तारीख
11-05-2020
सविस्तर माहिती खाली वाचा
Latur Arogya Vibhag Bharti 2021 Details

Department Name

National Health Mission, Latur
Recruitment Name

Arogya Vibhag Recruitment
Name of Posts
Pediatrician, Surgeon, Physician, Radiologist, Anesthetist, Gynecologist, Microbiologist, Medical Officer, MO RBSK, MO MBBS, Supervisor, Staff Nurse, Pharmacist, Counselor, Physiotherapist, SCD Coordinator, Facility Manager, Dental Hygienist, Dental Hygienist, Immunization Field Monitor, Cardiologist, Yogo Therapist, Social Worker, Program Coordinator, Psychiatrist
Total Post
114
Application Mode
Online
Official Website
arogya.maharashtra.gov.in

Educational Qualification For Latur Health Service Recruitment

Pediatrician
MD Ped / DCH / DNB
Surgeon
MS Gen. Surgery / DNB
Physician
MD Med.
Radiologist
MD Radiology
Anesthetist
MD Anest. / DA / DNB
Gynecologist
MD / MS Gyn
Microbiologist
MD Microbiology
Medical Officer (Ayush)
BAMS
MO RBSK
BAMS
MO MBBS
MBBS
Supervisor
Any Graduates
Staff Nurse
GNM / B. Sc Nursing
Pharmacist
B. Pharma / D. Pharma
Counselor
MSW
Physiotherapist
Graduates degree in Physiotherapy
SCD Coordinator
MSW
Facility Manager
Diploma in Electronics / Electrician / E & C / IT
Dental Hygienist
12th Science & Diploma in Dental Hygienist
Immunization Field Monitor
Any Graduates with Typing
Cardiologist
DM Cardiologist
Yogo Therapist
Diploma in Yogo
Social Worker
MSW
Program Coordinator
MSW / MA
Psychiatrist
MD Psychiatry / DNB / DPM

Vacancy Details

Pediatrician
08
Surgeon
02
Physician
03
Radiologist
04
Anesthetist
07
Gynecologist
04
Microbiologist
01
Medical Officer (Ayush)
01
MO RBSK
02
MO MBBS
10
Supervisor
03
Staff Nurse
01
Pharmacist
03
Counselor
01
Physiotherapist
01
SCD Coordinator
01
Facility Manager
01
Dental Hygienist
01
Immunization Field Monitor
02
Cardiologist
02
Yogo Therapist
01
Social Worker
01
Program Coordinator
01
Psychiatrist
02

Pay Scale

Pediatrician
Rs. 75000/-
Surgeon
Rs. 75000/-
Physician
Rs. 75000/-
Radiologist
Rs. 75000/-
Anesthetist
Rs. 75000/-
Gynecologist
Rs. 75000/-
Microbiologist
Rs. 75000/-
Medical Officer (Ayush)
Rs. 28000/-
MO RBSK
Rs. 60000/-
MO MBBS
Rs. 45000/-
Supervisor
Rs. 20000/-
Staff Nurse
Rs. 12000/-
Pharmacist
Rs. 10000/-
Counselor
Rs. 17000/-
Physiotherapist
Rs. 20000/-
SCD Coordinator
Rs. 20000/-
Facility Manager
Rs. 17000/-
Dental Hygienist
Rs. 17000/-
Immunization Field Monitor
Rs. 20000/-
Cardiologist
Rs. 125000/-
Yogo Therapist
Rs. 17000/-
Social Worker
Rs. 25000/-
Program Coordinator
Rs. 20000/-
Psychiatrist
Rs. 75000/-

All Important Dates




Last Date of Online Application
11-05-2020
How to Apply For Latur Arogya Vibhag Bharti 2021
All Candidates should visit the PDF for more information which is given below.
Candidates who are interested in the above-given posts, they can apply through E-mail ID.
To send the application by mail id is given below.
E-Mail Address:

ddhs.latur-mh@gov.in
So, Dear Aspirants, Start your study, planned well and hit success. MPSC World is always with you to encourage you in every step of educational life.
---
Latur Arogya Vibhag Bharti 2021 – Latur Arogya Vibhag Recruitment
Latur Arogya Vibhag Bharti 2021 Details

Department Name
National Health Mission, Latur
Recruitment Name
Arogya Vibhag Recruitment
Name of Posts
Physician, Anesthetist, Medical Officer, Ayush Medical Officer, Hospital Manager, Staff Nurse, X-ray Technician, ECG Technician, Laboratory Technician, Pharmacist, Store Officer, Data Entry Operator, Ward Boy
Total Post
6521
Application Mode
Offline

Educational Qualification For Latur Health Service Recruitment

Physician
Degree in MD Medicine
Anesthetist
Any Degree or Diploma
Medical Officer
Degree in MBBS
Ayush Medical Officer
Degree in BAMS
Hospital Manager
Any Graduate with MPH, MBA, MHA
Staff Nurse
Degree in B.Sc
X-ray Technician
Retired X-Ray Technician
ECG Technician
Degree in B.Sc and DMLT
Laboratory Technician
Any Graduation
Pharmacist
Degree in B.Sc Nursing
Store Officer
Degree in B. Pharmacy and D. Pharmacy
Data Entry Operator
Any Graduation, Typing Speed in English and Marathi
Ward Boy
SSC Pass

Vacancy Details

Physician
173
Anesthetist
114
Medical Officer
744
Ayush Medical Officer
419
Hospital Manager
141
Staff Nurse
3157
X-ray Technician
91
ECG Technician
73
Laboratory Technician
166
Pharmacist
230
Store Officer
132
Data Entry Operator
185
Ward Boy
925

Pay Scale

Physician

Rs. 75,000/-

Anesthetist

Rs. 75,000/-

Medical Officer

Rs. 60,000/-

Ayush Medical Officer

Rs. 30,000/-

Hospital Manager

Rs. 35,000/-

Staff Nurse

Rs. 20,000/-

X-ray Technician

Rs. 17,000/-

ECG Technician

Rs. 17,000/-

Laboratory Technician

Rs. 17,000/-

Pharmacist

Rs. 17,000/-

Store Officer

Rs. 20,000/-

Data Entry Operator

Rs. 17,000/-

Ward Boy

Daily Wages Rs. 400/-

All Important Dates

Last Date of Online Application
18-04-2020