महाराष्ट्र शिक्षक भरती 2020 – Maha Shikshak Bharti 2020
Shikshak Bharti 2020 – शिक्षक भरती 2020
Pavitra Portal – Shikshak Bharti Online Form Submission Details
Pavitra Portal: Maharashtra Shikshak Bharti 2020 is finally starting on Pavitra Portal by Maharashtra Government under Mega Bharti 2020 as the official declaration is given by Education Minister of Maharashtra. Shikshak Bharti was postponed many times so, many teachers are waiting for this Teachers Recruitment 2020. As per the news, Shikshak Bharti will be organized for almost 6000 teacher vacancies. So, this is really good news for all the teachers who are waiting for this opportunity. All the official information for Shikshak Bharti 2020 will upload on Pavitra Portal. Whenever new updates regarding Shikshak Bharti will announce we will update below so, stay tuned on this page.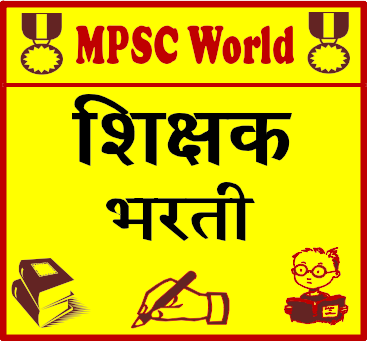 Pavitra Portal 2020 Latest Update (08 August 2020)
As per the latest notification released by the education ministry, Shikshak Bharti is removed from the list of recruitments which are postponed due to the covid-19 pandemic. So, it means Shikshak Bharti will resume very soon and Pavitra Portal will start again in 5 days.
पवित्र पोर्टल बाबत मा. विशाल सोळंकी साहेब आणि अजित पवार यांच्यामध्ये सुमारे 1.30 तास चर्चा झाली आणि त्यामधून तोडगा निघाला आहे.
पवित्र पोर्टल 5 दिवसात सुरू होईल व मराठा आरक्षण प्रकरणी तलाठी भरती प्रक्रिया करण्यात आली त्याप्रमाणे शिक्षक भरती प्रक्रिया होऊ शकते.
संस्था अधिनियमात बदल करण्यात आले आहेत तसेच शिक्षण सेवक ही बंद होणार आहे त्याऐवजी साहाय्यक शिक्षक म्हणून नियुक्ती करण्यात येईल आणि वेतन 18000 रु मिळण्याची शक्यता आहे.
Pavitra Portal Latest Update (09 August 2019)
Good News for all candidates. The selection list of candidates (Without interview) is going to announce today i.e 9th August at 5 P.M. You can check the selection on the "Selection Status" link. The selection list for an interview will be announced on 16 August 2019.
शिक्षक भरती साठी निवड यादी आज 9 ऑगस्ट 2019 सायंकाळी 5 वाजता प्रकाशित करण्यात येणार आहे. उमेदवारांनी लॉगीन करून Report या Menu अंतर्गत "Selection Status" मध्ये निवड स्थिती बघू शकता. खालील लिंकवरून तुम्ही निवड यादी बघू शकता.
Pavitra Portal Latest Update (20 June 2019)
Due to some technical issues, Pavitra Portal was closed but now it is again started from 20 June 2019. Now you can submit your preference from 20 June to 24 June 2019 and you can lock your preference from 25 June to 30 June 2019. Please read below to get complete information.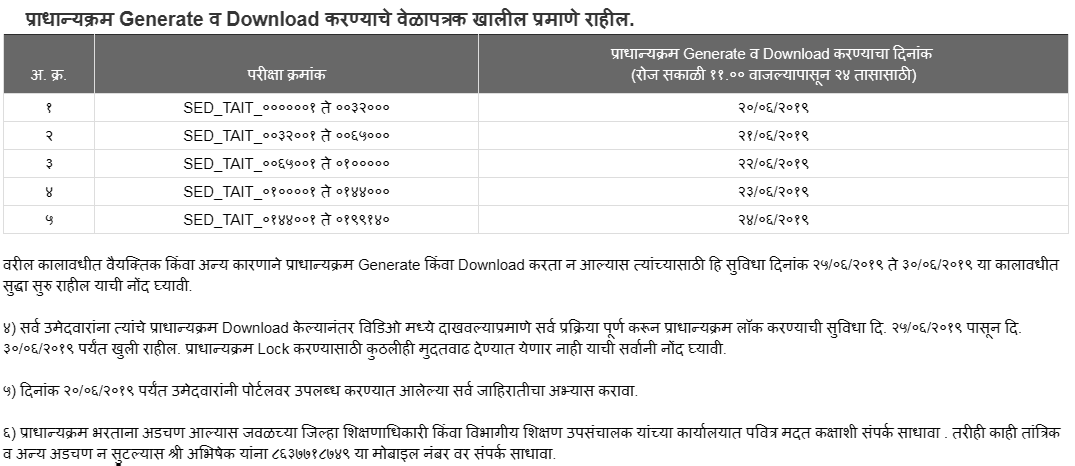 Pavitra Portal Latest Update (22 May 2019)
Pavitra Portal started accepting Preferences on 22 May. Candidates can submit their preferences by 31st May 2019. Pavitra Portal also published an instruction video regarding How to submit preference on the portal. You can watch the video by clicking on the below-given link.
शिक्षक भरतीसाठी पवित्र पोर्टल मार्फत उमेदवारांना प्राधान्यक्रम भरण्याची सुविधा दि. 22 मे 2019 पासून सुरु करण्यात आलेली आहे. प्राधान्यक्रम भरण्याचा अंतीम दिनांक 31 मे 2019 आहे.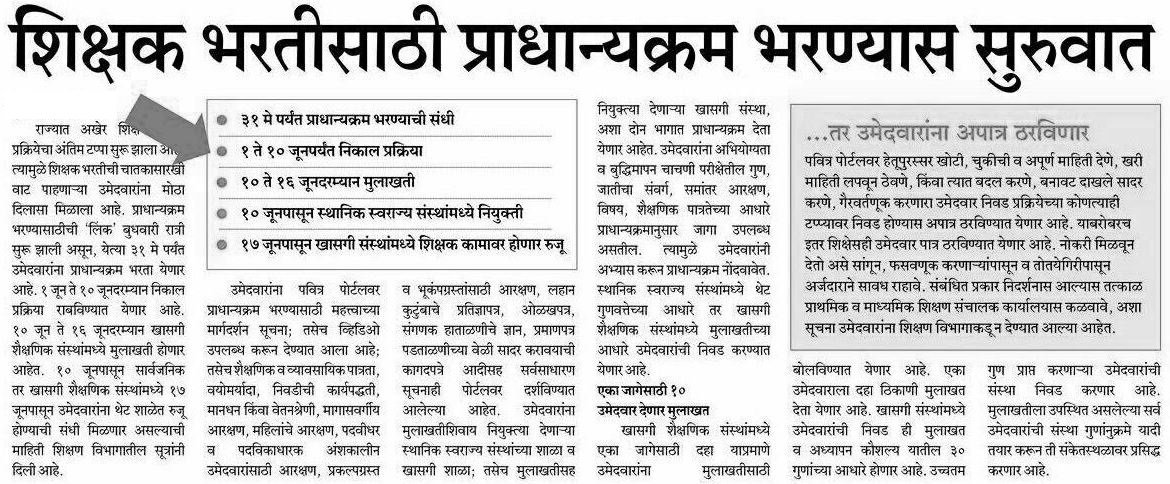 Pavitra Portal Latest Update (20 May 2019)
Pavitra Portal finally published instructions for candidates to get all important information regarding Eligibility, Age Limit, Required Documents, etc. You can download Instructions PDF from the below link.
महाराष्ट्र शासनाद्वारे

शिक्षक भरती

चे आयोजन करण्यात आले आहे. जवळपास 12 हजार पेक्षा जास्त जागांसाठी हि भरती होत आहे. तरी त्याविषयी सर्व माहिती या ठिकाणी प्रकाशित करण्यात येईल, "

MPSC World

" ला नेहमी भेट देत राहा.
Shikshak Bharti 2020 Vacancy Details
As you know, Shikshak Bharti is organized for 10,001 Posts in all the districts of Maharashtra. All the vacancies are classified by different management authorities. We have given all the distribution of Vacancies by their Management.
Shikshak Bharti 2019 Vacancy Distribution
Management
No. of Sanstha
Grand Total
Zilla Parishad
25
5152
Municipal Corporation
11
563
Nagar Palika
52
261
Private Aided – Primary
125
261
Private Aided – Secondary
612
3764
TOTAL
10,001
Shikshak Bharti 2020 District Wise Details
तुमच्या जिल्ह्यातील शिक्षक भरतीच्या अधिक माहितीसाठी कृपया तुमच्या जिल्ह्यासमोर क्लिक करा.
Important Points – You should know before applying for any post
The candidates who have given TAIT and successfully registered (i.e. Filled personal information – Profile) on Pavitra Portal, only can apply for any advertising published by this recruitment.
Interested and Eligible candidates can give their preference list for their choice post in terms of Advertise in the online application form.
Pavitra Portal – Shikshak Bharti 2019 Details
In the below table you will get complete information regarding Teacher Recruitment.
Maharashtra Shikshak Bharti 2020 Information

Department Name

Education Department, Maharashtra
Recruitment Name

Teachers Recruitment
Name of Posts
Shikshak (Teacher)
Total Vacancies
10,001
Application Mode
Online
Official Website
maharashtra.gov.in

Eligibility Criteria For Maha Shikshak Bharti

Educational Qualification
D.Ed / B.Ed
Age Limit
18 to 43 Years

Vacancy Details

Shikshak (Teacher)
10,001

All Important Dates




Starting Date of Application
02-03-2019
Last Date of Application
Not Available
Shikshak Bharti Latest Update (28 February 2019)
Good news for all the future teachers that finally Shikshak Bharti 2020 is started in Maharashtra for a total of 10,001 vacancies. Official Advertisement will be available from 2 March 2019. Please read below for an update for more information.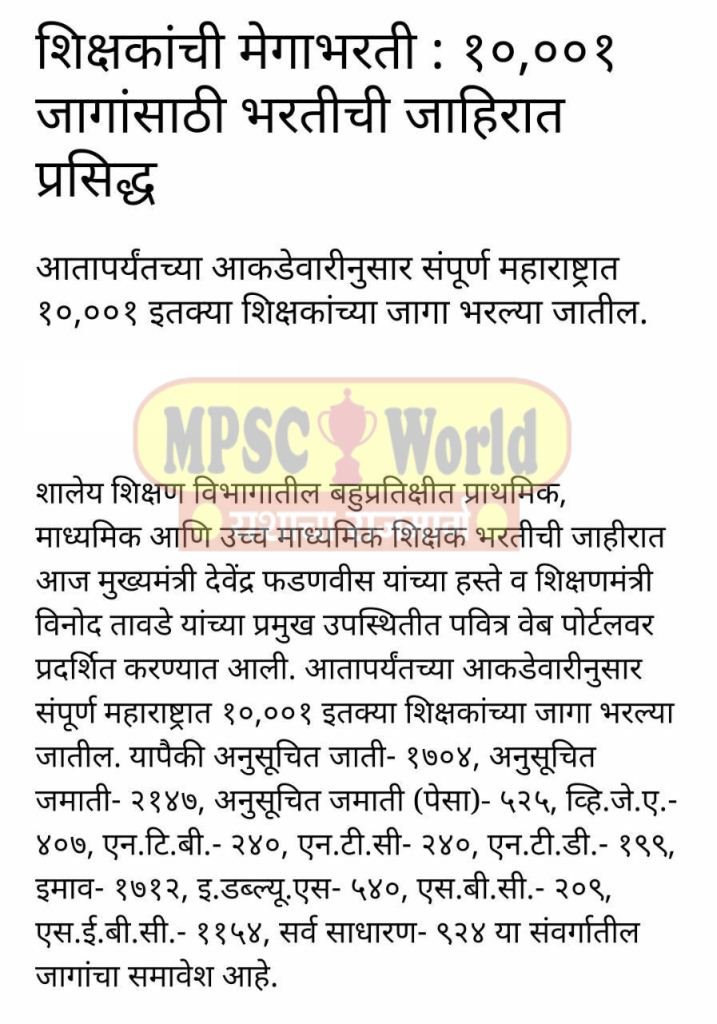 Shikshak Bharti Latest Update (27 February 2019)
Maharashtra Shikshak Bharti is finally starting from 28 February 2019 as an advertising filling process near to complete by all the organizations. Advertising regarding Shikshak Bharti will start publishing on "Pavitra Portal" from 28 February.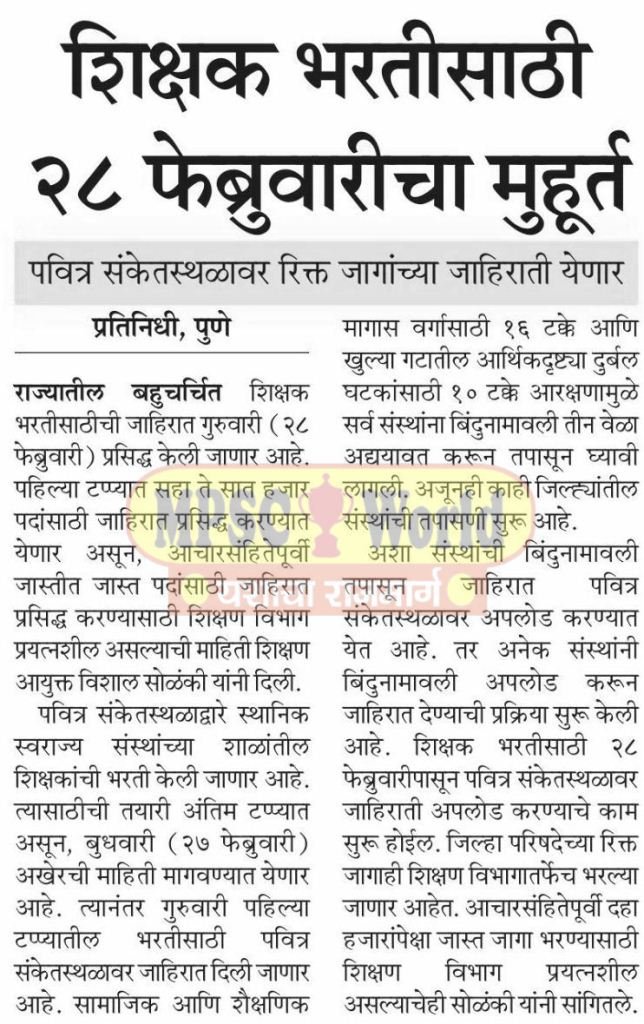 Shikshak Bharti Latest Update (12 February 2019)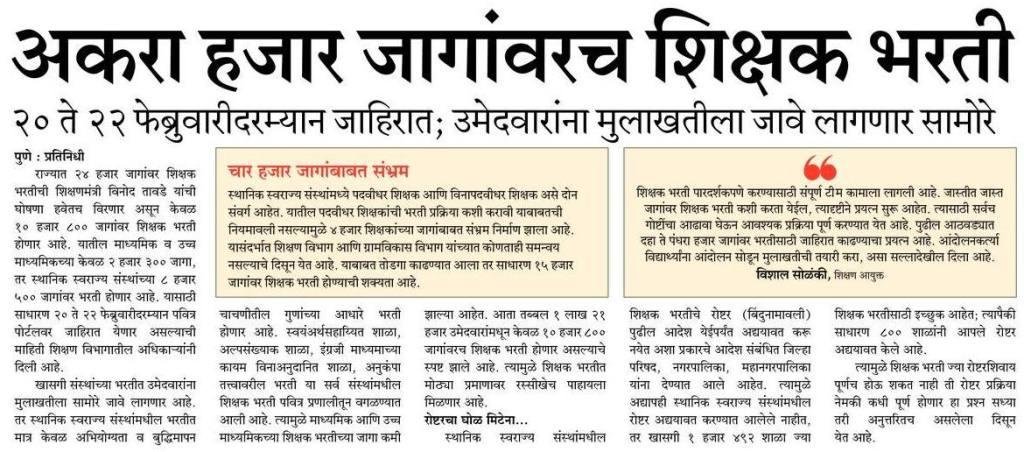 Previously, Shikshak Bharti announced a total of 24,000 posts but now due to recent changes, it will be organized for 11,000 posts.
Advertisement regarding Shikshak Bharti will be published between 20 to 22 February 2019.
Candidates who are applying for the Private School Organization need to give an Interview also.
Other candidate needs to give only the Intelligence Test for selection.
Due to the difficulties in the roaster process, Shikshak Bharti is continuously postponing.
Shikshak Bharti 2020 is starting next week and you will get complete information regarding Maharashtra Teachers Recruitment here on this page. So, please share this page with your friends to get the latest updates regarding Shikshak Bharti.
Keep Visiting MPSC World for Job Updates and Educational Stuff.