Nashik India Security Press Bharti 2018 For 35 Posts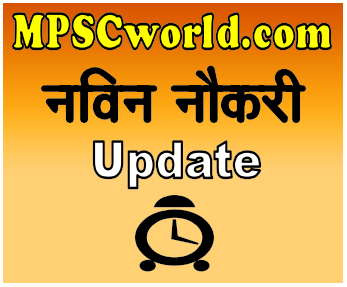 Nashik India Security Press Bharti 2018
नाशिक भारत सुरक्षा प्रेस भरती 2018
Total Posts : 35 Posts
Name Of Post : Junior Office Assistant
Education Qualification : Graduation
Pay Scale : Rs. 8350-20470/-
Age Limit : 18-28 Years
Application Fees : Rs. 200/-
How To Apply : Apply Online
Start Date For Application : 3 April 2018
Last Date For Application : 2 May 2018
Official Website : www.ispnasik.spmcil.com
Click Here To Download Advertise (जाहिरात डाऊनलोड करण्यासाठी येथे क्लिक करा.)
---
खालील माहिती जुन्या भरतीविषयी आहे.
Nashik India Security Press Bharti 2018
नाशिक भारत सुरक्षा प्रेस भरती 2018
Total Posts : 3 Posts
Name Of Post : General Duty Medical Officer
Education Qualification : Graduation
Pay Scale : Rs. 55000/-
How To Apply : By Post.
Address :
General Manager,
India Security Press,
Nashik Road-422101.
Last Date For Application : 5 February 2018
Official Website : www.ispnasik.spmcil.com
Click Here To Download Advertise (जाहिरात डाऊनलोड करण्यासाठी येथे क्लिक करा.)